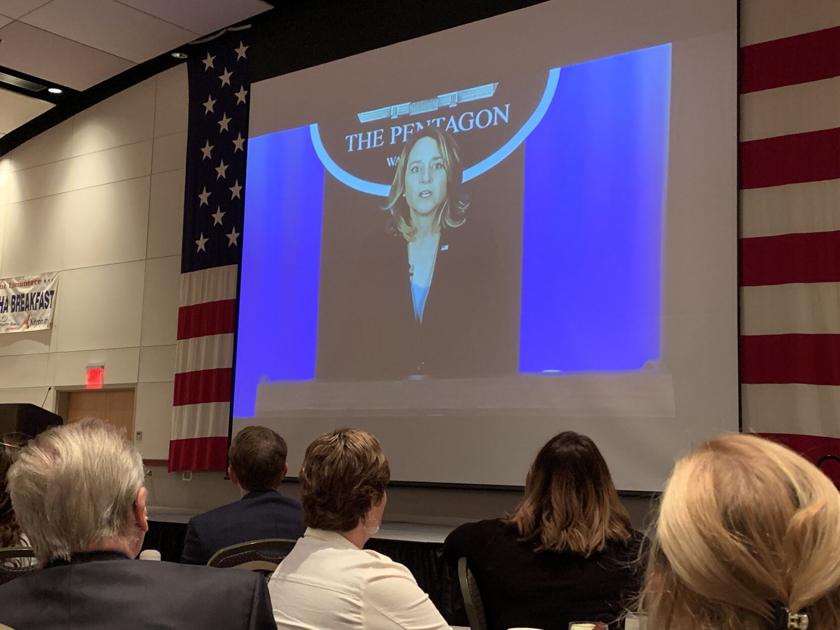 DOD's Hicks tells Showcase audience: Small businesses key to military innovation | News
JOHNSTOWN, Pa. – Deputy Secretary of Defense Kathleen Hicks emphasized the important role she expects small businesses to play in preparing the United States for the "future fight" in video remarks delivered during the Showcase for Commerce's John P. Murtha Breakfast on Thursday.
Hicks' comments were shown to dignitaries, along with local and national vendors, gathered at the annual defense contracting exposition at the Frank J. Pasquerilla Conference Center in downtown Johnstown.
"We want to harness from the very best of America in sourcing a broad, diverse set of potential partners and suppliers," Hicks said. "That especially includes small businesses.
"Small businesses lead the nation in innovation – producing 16.5 times more patents than large patenting firms. They deliver rapid operational concepts, prototypes and demonstrators, that allow DOD to respond with agility and efficiency when needed."
Hicks was the highest-ranking Pentagon official to ever address Showcase for Commerce in its 30-year history.
U.S. Rep. Chrissy Houlahan, D-Pa., 6th District, provided comments via video, while U.S. Rep. Glenn "G.T." Thompson, R-Centre, 15th Congressional District. spoke in person.
Hicks highlighted some work the DOD has already done with small businesses, including:
• Increasing small business spending in research and development by 83% over the past decade;
• Expanding small business manufacturing spending by 28%;
• Having 45% of contract awards going to disadvantaged or woman-owned businesses; and
• Leveraging the Small Business Innovation Research program that, on average, commercializes $7 billion in small business innovations that directly support warfighting.
She also spoke about the special needs facing businesses that work with the DOD, such as security requirements and procurement practices.
The Department of Defense plans to put a notice in the federal register seeking feedback about the barriers faced by contractors.
"We have made significant efforts to make our acquisition efforts more agile, but we need industry to help us understand where we can make additional progress," Hicks said. "We will incorporate this input into the department's small business strategy, which I intend to announce before the end of this year."
The DOD has created an Innovation Steering Group.
It is also working to streamline its entry points into the defense marketplace, she said.
"This means leveraging our small business program website to be a single point of entry – business.defense.gov," Hicks said. "That website currently contains a number of toolkits to help companies get started, which we'll be expanding in the months ahead."
Hicks said the DOD is "enhancing" its Procurement Technical Assistance Centers, including Johnstown Area Regional Industries' PTAC.
"These centers, which can be found in universities, on main streets and within business centers, provide direct assistance to small companies that want to do business with us," Hicks said.
Career obstacles
Houlahan, a House Armed Services Committee member, was scheduled to deliver in-person remarks.
But the event conflicted with the time the committee was considering the National Defense Authorization Act.
"During this NDAA process this year, I'm working on amendments to help the ROTC program reach more students and to make DOD service more accessible for new moms," Houlahan said. "We have to keep chipping away at the barriers that nudge talented young people toward other paths. I served in the Air Force in my 20s where some of these obstacles were actually the reasons why I ended up separating from the service."
She addressed the importance of educating U.S. students in a way that prepares them for modern jobs.
"I believe that the future of our national security rests on the way that we prepare and engage our young people," Houlahan said. "And I'm concerned that our adversaries are outpacing us when it comes to investing in STEM education from a very young age. There are thousands of cybersecurity and related jobs open right now and not nearly enough qualified people to fill them."
'Power of manufacturing'
Thompson credited Showcase for the way it promotes the region and helps develop local business.
"This event, in my travels, my work with my colleagues, there's not anything quite like it – how it mobilizes, how it marshals, how it brings together different aspects, different teams, manufacturers, the needs of those of us who are responsible ultimately for the safety and security of this country, the workforce, the men and women with the skills to be able to deliver those tools, those great resources that we need," Thompson said. "There's just nothing quite like it."
He continued: "If this extraordinary time has taught us anything it's the importance of our domestic supply chain and our manufacturers. The Showcase for Commerce is more than a celebration of economic power of manufacturing. This event puts a spotlight on the innovations that come from our area that make American warfighters safer, effective and – quite frankly – more lethal."