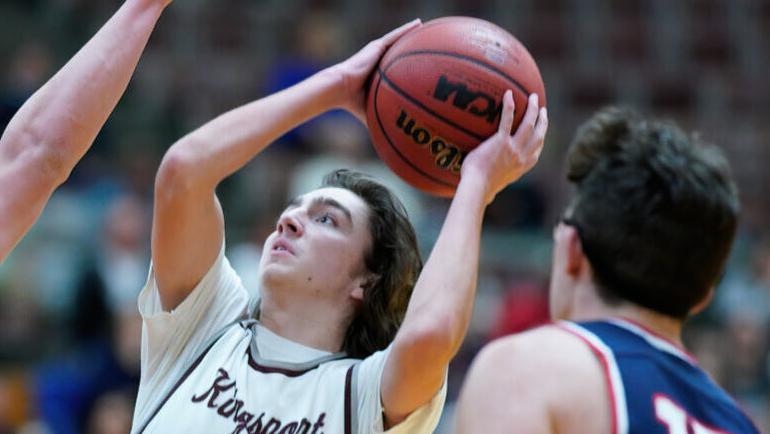 Fall league highlights area's top basketball players | Sports
After watching several standout athletes pursue the grass-is-always-greener pathway through the years, area high school boys basketball coaches "quit their bellyaching" — as Chris Poore put it — and decided to do something about it.
In their brainstorming, they came up with an idea to promote the top players but keep them tied to their high school. The result was 423 Hoops, an organization that combines the college-recruiting-network resources of high school coaches in Northeast Tennessee and Southwest Virginia.
The league is one step the coaches have made toward trying to keep kids from transferring to private schools for so-called "better exposure" to college coaches.
"When we had postseason meetings for the conference, we kept coming up with the same issue," said Poore, Dobyns-Bennett's head coach. "The opportunities for kids in our area wasn't very good. There weren't a lot of showcases and no fall league. We decided to do something to change that. We wanted to find a way to get kids exposed to college coaches. We've used a ton of our resources to offer opportunities for our kids."
One of the key steps was reaching out to Joe Ebarb and using his Shooting Stars insurance umbrella to have a fall league in the area. This is the first year of the league, and things seem to be rolling along nicely.
"The coaches needed a platform to show off their local kids' talents in front of college recruiting services and things of this nature," said Ebarb, who is the athletic director for the Johnson City Parks and Recreation Department and a longtime organizer of youth basketball leagues in the area. "They tried to pattern themselves after the Rocky Top League in Knoxville, which is where a lot of area kids had been going to play in the fall."
Players can't sign up for the league, but rather have to be recommended by their high school coach. Games are played on Saturdays at Science Hill, Dobyns-Bennett or Daniel Boone. The league started three weeks ago and will run through the Sept. 25 matchup in Jefferson County against Knoxville-area teams.
"This is unique to this area, and it was needed," Ebarb said. "This is an awesome opportunity. I'm more excited about this than I was about the summer league we started all those years ago. This really needed to be done."
Ebarb said the league plans to expand to include girls in 2022. That league will also require a coach's recommendation to participate.
Players in the boys 423 Fall League come from deep into Southwest Virginia all the way down to Morristown.
"We have kids from Gate City, Rye Cove, Unaka, Elizabethton, all over," Ebarb said. "It gives these kids a chance to play against really good talent. They can see what they need to work on."
And they will get a chance to compete in front of Division I coaches soon. Those coaches will be able to scout the league in the next couple of weeks.
Before the league started, 423 Hoops got the ball rolling with an open event — where area players got a chance to match up with college stars like Mac McClung, Patrick Good, John Fulkerson and Makale Foreman in pickup games.
"Our message to those guys is they can play pickup games that are covered by insurance," Poore said. "And they let our top players play with them. Hopefully this will be something that keeps giving back."
The league will soon have a website, where the top players will be featured with individual information and videos.
"This can funnel college coaches to the site and give them a central point where they can find recruits," Poore said.
And Poore said he wants the kids to be promoted by their high school.
"Kids today get their identity spread out so thin," he said. "They may have an AAU team, a strength coach, a personal trainer — all trying to claim fame on that player's behalf. This promotes the kid."