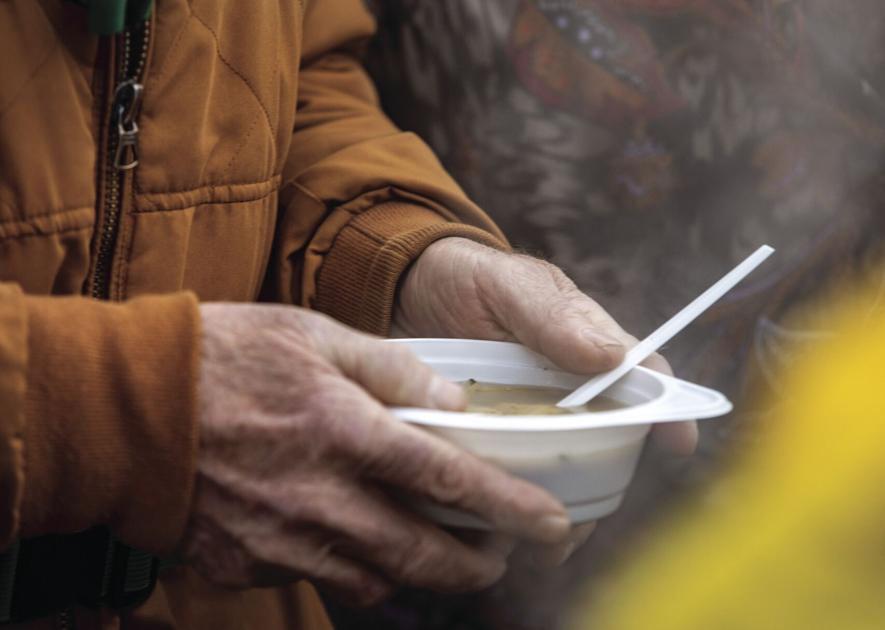 Lewisville police say collaboration is helping address the homelessness issue | News
Lewisville police say the city is making strides in addressing the homeless issue, and officials point to county-wide collaboration as a big reason why.
During an update with the Lewisville City Council on Monday, Officer G. Hopper pointed to several encouraging trends, such as the number of homeless people at any given time in Lewisville dropping from 100 to 150 in 2020 to 10-25 in 2021.
He said the number of homeless individuals who have not been seen or contacted has increased from 50 last year to 150 this year, a sign that their situation may have improved.
Hopper said over time he and other officers can connect with homeless individuals to offer help.
"The hard part is building the rapport with these individuals so they trust you and will let you get that resource for them," Hopper said. "It doesn't happen overnight."
Officers provide a community resource book to homeless people that include various types of resources for mental health, drug rehabilitation, food, etc.
He said officers also take a referral approach, adding that all of these efforts are voluntary.
"If they let me give the resource their name, phone number or where they're going to be then that resource will continue reaching out to them knowing they need help," Hopper said. "It's a lot more successful if we get it done that way."
He said approximately 50 percent of homeless people follow up with the referral. Hopper said the resource often keeps in close contact with the officers so that if a homeless person makes an appointment for help but doesn't show up the officer can help get them to the appointment.
Hopper said some of the most important resources available for homeless individuals are those that address mental illness and addiction.
Hopper said approximately 80 percent of the city's homeless population have admitted to or believe they have a mental illness.
He said 95 percent of the city's homeless have a drug addiction. He said most of them have been involved in some sort of criminal activity.
"If we don't treat the drug, alcohol and mental illness, I can get them jobs, clothing or showers, but they're not going to keep that job, they're not going to pay the rent if they go out and start doing the drugs again they'll miss their job and they'll get fired again," Hopper said. "And the cycle starts over again."
Hopper said the relationship between the police department and county-wide resources has strengthened over time. 
"Now we have dedicated folks, that's not crisis, that's strictly drug rehab, alcohol rehab that I can call directly now," Hopper said. "And that's the collaboration. It's not a Lewisville thing, it's a county thing that we have a lot of mental illness, we've got a lot of drug and alcohol abuse."
Hopper said one effort that has been successful is a ride-along program where officers take resources, such as leaders from United Way of Denton County, Giving Hope or MHMR, directly to the homeless individuals for one-on-one interviews.
"To be effective you have to cross jurisdiction grounds," Chief Kevin Deaver said. "That is especially the case with the transient community. They're here today, but they'll be in Denton tomorrow and may be in Dallas tomorrow. So we have to stay on top of it, and sharing that information is a wealth of knowledge."
Lewisville also created a CoCare Crisis Team where officers and firefighter/paramedics are trained in mental health issues.
He said officers also help connect the homeless with resources who can help with obtaining identification needed for a job, transportation assistance, job assistance, housing/shelter and food/clothing assistance.
Hopper said officers keep track of basic identifying information of the homeless individuals, as well as the type of assistance that has been offered, whether they have accepted those services and their mental and physical state. He said that helps officers know how to deal with that person if an officer is called to deal with a situation.
Hopper said LPD continues to think of new ways to help the homeless but said a continued partnership with area organizations will always be key.
"The whole county is on board with shared resources, shared knowledge bases," Hopper said.
Follow Chris Roark on Twitter!
@Reporter_Chris