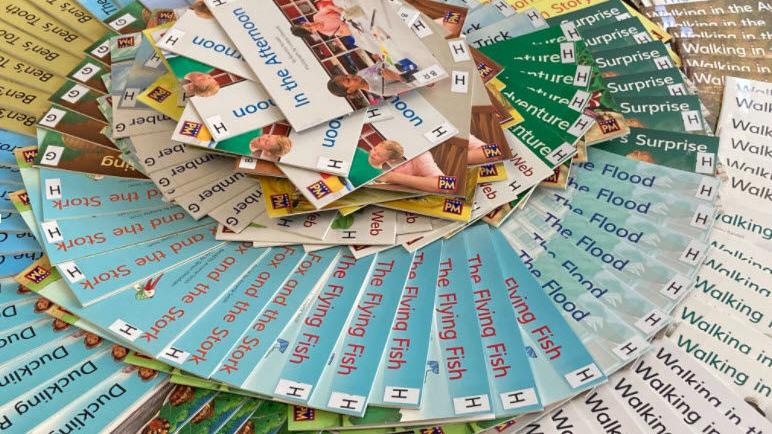 Reading resources gain momentum at Blowing Rock School | Blowing Rocket
BLOWING ROCK — Thanks to a series of grants and eager volunteers among parents, teachers and students at Blowing Rock School, pre-K through eighth grade reading programs have been strengthened, according to Laurie Gill, Literacy Intervention Specialist at the school.
"We have had a couple of challenges," said Gill. "One is the range of reading skill levels as students advance from grade to grade. It is kind of like 'one size does not fit all.' In this case, not all of the students are advancing at the same reading level, so having all of the students read the same books does not work as well. If you use less advanced books, then your super readers are falling behind from where they could be and frustrated. They are being held back. But if you gear your program too high, then those that are not as well-developed have a really hard time and don't make the progress they need to catch up to their grade level.
"We see and recognize the problem," said Gill, "but the other challenge is having the resources to address it."
Gill said that thanks to the largesse of foundations and generous anonymous donors in the community, many of the resources have arrived. And it began local.
"This past spring an anonymous Blowing Rock School family surprised us by setting up a 'challenge to match' donation of $6,000, to help us buy the award-winning, Rigby PM little books we needed for our PreK-1 teacher shared library. These books are all in color, expertly crafted, and precisely leveled for difficulty. The have unusually engaging stories that our students just love," Gill said.
But quality comes with a price.
"They are expensive, though, and we just did not have enough of them. So while we were brainstorming about how to match the $6,000, another leader in Blowing Rock heard about our hopes and speedily organized contributions from several more residents. All within a week's time, this wonderful man contacted us to say that he had rounded up the full amount. So then we had $12,000 to purchase many Rigby PM titles at the crucial, early reading levels where they are most needed," said Gill.
Gill explained that individual teachers will check out sets of the same title from this library to supply their daily reading groups.
"Different groups can each read at their own level, and each with interesting books. Until now, we have relied on grants and donations to purchase less expensive, black-and-white little books from a different publisher. They were well-designed and useful, but not as appealing or as inspiring to the kids as the in-color Rigby books," said Gill.
Gill said she has often joked with other teachers that if she were ever to be stranded on a desert island, all she would need are the Rigby PMs.
"Now I work at a school as a reading teacher and we have a large collection of them! This is a dream come true and they will have an immediate impact on our teaching of reading in the early grades," said Gill.
Gill reported that new resources have been received in the meantime, too.
"Last week, we learned that a grant we submitted to Tanger Kids had won, awarding us $2,500 more to purchase Rigby PM little books. It is an embarrassment of riches, as they say. We are now working on consolidating all of our Prek-1 Shared Library books along one hallway, making it easy for teachers to check out and return the titles at all reading levels. This facilitates easier lesson planning for students of different skill levels, promoting smooth progress for all."
The disparity in reading skills among older elementary and middle school students is being addressed, too.
"For the past six years, we have been building a second through eighth grade Shared Library, grant by grant and donation by donation. Last spring, we received a $7,500 grant from the Clabough Foundation, so now our 2-8 teachers are able to buy small sets of the same title for small group work. There are also some class-size sets of books that are new, are classics, and that track with our curriculum. They can reach students that are both above or below grade level. That variation in reading level is a normal phenomenon of schooling that we are now able to address."
In addition to the financial resources, Gill said that teams of parents, teachers and even students are helping to process the new books as they arrive.
"Each book needs a Blowing Rock identifying sticker as well as a sticker indicating its reading level. We also reinforce the binding with clear packing tape to lengthen its life by several years. We really appreciate the involvement of our community.
"We know our students aren't all reading at grade level, but we also know that reading can be a self-teaching process when he or she has a book that perfectly fits their reading level," said Gill. "It's like riding a bike where you can reach the pedals, vs. sitting on one where you can't reach the pedals."
Principal Patrick Sukow applauds the work of Gill and her fellow faculty members in the reading initiatives.
"Reading is the foundation for all education," said Sukow. "This is important work that our people and our community are getting done."